Founded in 2010, Eletra Energy was created of a joint venture formed by a Brazilian company and Hexing Group of Asian origin. In March 2013, the Eletra was acquired in its entirety by Hexing Group, which has over 20 years of experience in the development and manufacture of electricity meters and it is among one of the world leaders in energy measurement, selling more than 16 million meters per year and AMI solutions; manufacturing, sales, technical support and administrative offices to watch the needs of the customers around the world.
The Group has offices in Peru, Netherlands, South Africa and Bangladesh, Argentina, Hong Kong, Indonesia, Nigeria and Senegal. Besides that we have factories in China, Indonesia, Tunisia, Pakistan, Kenya, Iran, South Africa and Brazil, and it is also among one of the leading suppliers of products and smart metering systems in the world.
Currently Eletra is one of the greatest references in the market for electricity meters in Brazil, with an experienced team of employees, advanced technologies and strategic partners to provide products, systems and services worldwide.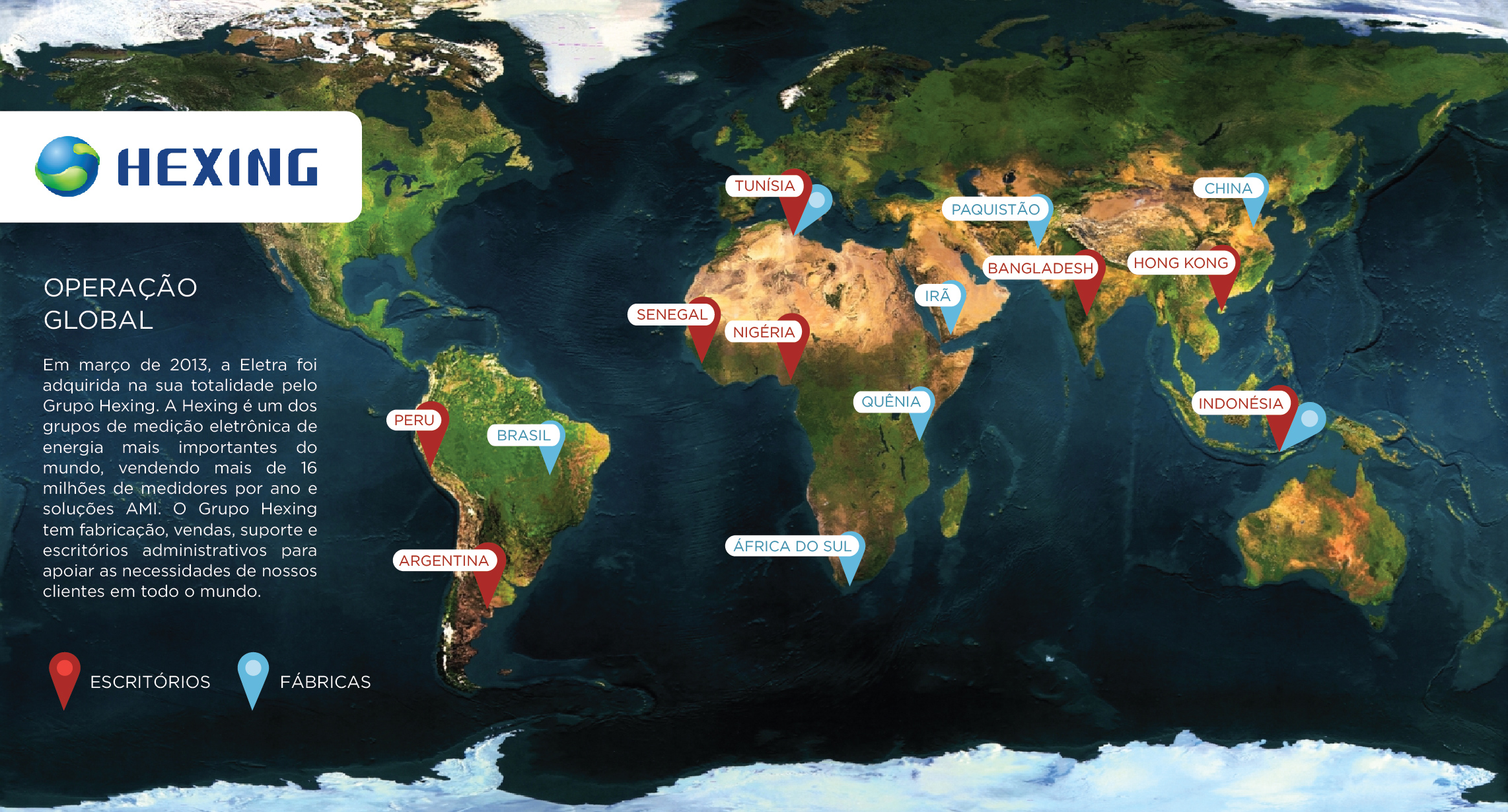 Technical team:
With strong R&D team and manufacturing experience, the range of products Eletra covers residential, commercial and industrial customers. All products comply with the most recents standards, IEC, ANSI, besides having several optional plug-ins and communication modules such as RF, PLC, GPRS, CDMA, PSTN or Ethernet.
Eletra also has the support of Hexing Group, which stands out for its strength in R&D, having now more than 300 engineers and complete laboratory tests. The Group has certifications such as MID, Eurids and DLMS (Europe), STS (South Africa), KEMA (Netherlands) and PTB (Germany).
We are a vertically integrated company, which controls the entire production process, with plastic injection and SMT machines for the electronic boards production.
Eletra is a company tuned to the future and ready to promote solutions and customized services to the current demands and smart grids, with the allies quality, environmental responsibility and customer service excellence.
Business
Contribute to the legal and rational use of energy resources.
Mission
Solutions in energy use control.
Vision
To be recognized as a partner company, a provider of solutions with environmental responsibility.
Values
Craving
Team Spirit
Respect
Flexibility
Innovation